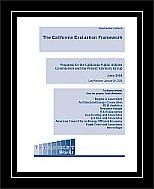 The California Evaluation Framework is available for downloading in PDF format.
The Framework provides a consistent, systemized, cyclic approach for planning and conducting evaluations of California's energy efficiency and resource aquisition programs. This document provides valuable information concerning when evaluations should be conducted, the types of evaluations that can be conducted, and a discussion of approaches for conducting those studies. The intended audience for various sections includes policy staff, program portfolio managers, program planners and implementers, evaluators, and other stakeholders.
Analytical Evaluation Consultants would like to thank the members of the project's Advisory Group for their assistance and support in developing the new Framework. We would also like to thank the people who provided comments and guidance during the development phase of the Framework.